WINDOW REPLACEMENT IN THE TWIN CITIES: A LOCAL GUIDE
If you're a homeowner in the Twin Cities area, you know that quality window replacement is essential for maintaining a comfortable and energy-efficient home. With so many options to choose from, it can be difficult to know where to start. That's why we've put together this comprehensive guide to window replacement in the Twin Cities.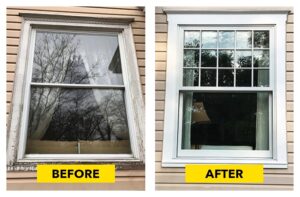 Here are the key factors to consider when planning a window replacement project in the Twin Cities:
get your quote online now - windows, siding, roofing and more!
Local Contractors: Choose a local contractor with experience in the Twin Cities area who can provide expert installation and customer service.

Material: Select from a range of materials including vinyl, fiberglass, wood, and aluminum, each with its own unique benefits and drawbacks. Consider factors such as durability, maintenance, and energy efficiency when making your decision.

Style: Choose a style that complements the architecture of your home and fits your personal taste. Popular styles include double-hung, casement, bay, and more.

Energy Efficiency: Upgrade to energy-efficient windows to reduce your heating and cooling costs and improve the comfort of your home. Look for windows with features such as double-paned glass, low-E coatings, and argon gas fills.

Cost: Window replacement can be expensive, so it's important to consider your budget when making decisions about material, style, and energy efficiency.

Maintenance: Regular cleaning and maintenance will keep your windows looking new and functioning properly for years to come.
By considering these key factors, you can choose the right window replacement solution for your Twin Cities home and enjoy the benefits of energy-efficient and beautiful new windows.